Block Stats [Experimental]
Experimental

Add-on for Minecraft Bedrock Edition
---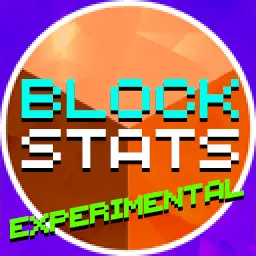 Block Stats [Experimental]
Blocks Placed and Blocks Broken Stats
*Requires experimental features! read more...
---
Details
Keep track of the number of blocks you've placed and broken in your world.

This addon keeps score of all of the blocks placed and broken by individual players on your world or server.

It has a built in UI that shows each players stats in order of most placed or most broken.
Instructions
Click here for instructions on how to install this pack
---
Download Latest Version:

block-stats-v0.0.2.zip
---
Download Info
---
Release Date
5th June 2023
---
Minecraft Platform
Bedrock Edition
---
---
---
---
Download Link
Version
Filesize
MC
Instructions from the Readme File
# Block Stats [Experimental]
# Created: 06/05/2023 [dd/mm/yyyy]
# Author: FoxyNoTail
# Version: 0.0.2
# Made for Minecraft Bedrock Edition 1.20
# For more info visit www.foxynotail.com

WHAT'S NEW IN v0.0.2
------
Updated for Minecraft 1.20


WHAT'S NEW IN v0.0.1
------
Brand new pack.
This addon records all of the blocks broken and blocks placed by all players on your world or server.

The built in UI shows blocks broken and blocks placed, not individually per block type.


README
------
EXPERIMENTAL PACK WARNING
=========================
This won't work without the "Beta APIs" Experiments Toggle selected in your world.
These experimental features should work on realms and servers if you create the world in single player first and enable the experimental features before uploading it to the realm or server.
=========================

HOW TO USE
==========
Add this pack to your world or server and then type "-setup" into the chat.
This will install two scoreboards for blocksBroken and blocksPlaced.

Type "-help" into the chat to get instructions.

Show the Blocks Broken UI:
Rename any item to "BlocksBroken", hold it and click it to load a UI window showing all of the players who have broken blocks since the addon was added to the world.

Show the Blocks Placed UI:
Rename any item to "BlocksPlaced", hold it and click it to load a UI window showing all of the players who have broken blocks since the addon was added to the world.

HELP & SUPPORT
------
For help and questions about Foxy's packs, please join the discord via the link below

LINKS
------
Discord: discord.gg/BqGKecr
YouTube: youtube.com/foxynotail
Twitch: twitch.tv/foxynotail
Twitter: twitter.com/FoxyNoTail
Website: www.foxynotail.com